Here you can find the latest news about SALAM-MED.
To celebrate the UN World Water Day, next 22nd March 2023 (from 10:00 to 12:30 CET), the SALAM MED project will join the PRIMA and ENI CBC MED joint webinar titled "A United Mediterranean for a Sustainable Management and Use of Water." The webinar will bring together...
read more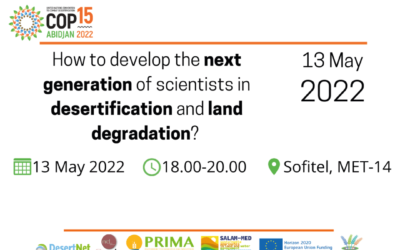 The fifteenth session of the Conference of the Parties (COP15) of the United Nations Convention to Combat Desertification (UNCCD) will take place in Abidjan, Côte d'Ivoire, from 9 to 20 May 2022. The COP15 theme, "Land. Life. Legacy: From scarcity to prosperity", is a...
read more
DO YOU HAVE ANY QUESTIONS?